Author: Stacy Kestwick
Narrators: Stephen Dexter, Tracy Marks
Length: 9 hours 5 minutes
Publisher: Stacy Kestwick
Released: Dec. 4, 2017
Genre: Contemporary Romance


Traditions are important. Especially in the South. College football. Rivalries. Tailgating. Halftime shows. Some things just don't change. Until Reese Holland shows up with her long legs and no-bullshit attitude to audition for the prestigious all-male Rodner University snare line. It doesn't matter how much hazing she has to endure from Laird Bronson, with his narrowed green eyes and arrogant smirk. She wants that damn spot, and she's more than good enough to earn it. She expects there to be tension. Even friction. But not sparks hot enough to burn the entire campus down.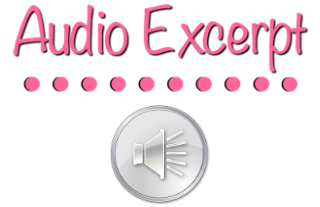 USA Today bestseller Stacy Kestwick is a Southern girl who firmly believes mornings should be outlawed. Her perfect day would include puppies, carbohydrates, and lounging on a hammock with a good book. No adulting, cleaning, or bacon allowed.

Tracy Marks has been acting onstage and onscreen since she was 12, and has been narrating audiobooks for 4 years. She lives in Chicago with her boyfriend and adorable dog, and considers herself very lucky to have an excuse to stay indoors in her toasty little booth during the cold winter months. Bringing heart, heat, vulnerability, and humor to her work, she has a passion for bringing love stories to life.
Stephen always wanted to be an audiobook narrator. As someone who never liked the whole "reading silently" thing, and has had a lifelong penchant for performing and flair for the dramatic, it was inevitable that he would be doing this for a living. With dozens of titles to his credit, a majority of them steamy romance novels, he has had the pleasure of voicing characters from the Great Plains of Texas, the bayous of Louisiana, the streets of South Boston, the dungeons of a vampire's castle, the deserts of Mars, and everything in between. It has been an honor to bring such amazing stories by Penny Reid (Marriage Of Inconvenience), Krista & Becca Ritchie (Hothouse Flower), Lex Martin (Shameless), Mia Sheridan (Kyland), and so many more incredibly talented authors, to life. Be sure to check him out on social media, Audible.com, ACX.com, and at www.stephendexter.com. SAG-AFTRA/AEA. Happy listening!

I admit that I'm one of those people who DO look at the cover before I read or listen to a book. I loved this thing. Did I think there was way too much sexy times in it? Admittedly yes. But people know that I like my romances a little less on the sexy side and more on the plot side...HOWEVER and here's the thing - this book had a lot of plot. The author outdid herself telling the story. The narrators were so awesome doing their thing that I was enmeshed in the tale of Laird and Reese's love story and couldn't put it down. My heart broke for Eli and I admit that I had the Kleenex near by. Anyone with a heart will feel the pain behind the words of anyone that's ever lost someone or lived with someone who has had cancer. As a survivor, this hit very close to home and brought all those feeling back to the surface and I loved every minute of it. It's not often that I give people a personal glimpse at my life, but when you're feeling a book like I was feeling this one...there is no sleep!!😉 I hated Marco and I'll just say that he deserved what he got and SOOO much more. May he work at....just think of the worst place ever and insert his name! I cringed every time he was in a chapter because we've all known people or guys like him and wanted to nut or cooch punch them - be honest...WE HAVE! Smith, Oh Smith...you are such a sweetheart and all of us women out here wish we had one of you IRL. I know I wish I did. You'd be my best friend and I'd have you live in my house and make you dinner every day (that's a lie because I don't cook!) I loved your sweetness and kindness.😘
This book overall had all the feels and I felt all the emotions and the narrator's shined through on that and brought those emotions to the forefront. Not all the times were they good emotions, but then as an author that's what you ultimately strive for and I think the author did an absolutely awesome job of gifting us with a wide range of emotions to feel. I'll definitely be looking at all her other books and I'm really glad I gave this a chance. Gift this, read this and then please go donate to The Cancer Society...they really do NOT have enough funding to find a cure. Stephen and Tracey did an outstanding job narrating this!!
I received this audiobook as part of my participation in a blog tour with Audiobookworm Promotions. The tour is being sponsored by Stacy Kestwick. The gifting of this audiobook did not affect my opinion of it.
Q&A with Author Stacy Kestwick
Tell us about the process of turning your book into an audiobook.

I have to admit, I was a complete newbie to the audiobook process. I knew nothing. I learned some of the basics from my author buddies who were seasoned pros, and then trusted my narrators to steer me along the right path. They were both beyond patient as they guided me through the steps. I think Tracy even went so far as to send me screen shots with step by step instructions at times.

Was a possible audiobook recording something you were conscious of while writing?

While creating an audiobook for Drumline was one of my goals with this project, it wasn't something I really thought about as I wrote. The characters were telling their story and I was simply making sure I did it justice. I was more concerned with word choice, pacing, sexual tension, side plots, vivid descriptions, and all the various ingredients that go into the recipe for a great New Adult romance.

How did you select your narrator?

Tracy had actually reached out to me after reading my debut novel, Wet, but at the time, I was in graduate school and the thought of exploring audiobooks was too overwhelming. But once I finished Drumline, and started exploring the various narrators out there, I stumbled upon her again by chance and loved a sample of hers I found, then remembered we'd already talked once and it was clearly meant to be a match.

To find my male narrator, I searched my author friends books on audible and listened to their samples to see who jumped out at me. I heard Stephen Dexter on a sample of one of Krista and Becca Ritchie's books, then realized my critique partner Lex Martin had used him too. She gave him a glowing recommendation, and that sealed the deal for wanting to use him.

Were there any real life inspirations behind your writing?

Well, for Drumline, I was in the marching band both in high school and for two years at the college level. I played cymbals my first year, then switched over to colorguard the rest of the time. Hazing did play a role in my college experiences, although nothing so bad as to make the nightly news, and it seemed like a relevant topic to explore -- without going too dark with it.

How do you manage to avoid burn-out? What do you do to maintain your enthusiasm for writing?

I go to book signings. Nothing is more uplifting than the enthusiasm of readers getting to meet their favorite authors. And getting some face-to-face time with your author colleagues in what is often a lonely job is priceless, solidifying those relationships that had only existed on a screen in the past.

Is there a particular part of this story that you feel is more resonating in the audiobook performance than in the book format?

Oh, the sexy scenes for sure. Especially the first time Laird and Reese have sex. I blushed so hard listening to that chapter, and had my eyes half covered. It's so much more deliciously dirty in audio than it will ever be in black-and-white.

If this title were being made into a TV series or movie, who would you cast to play the primary roles?

I'd love to see Blake Lively as Reese and Colton Haynes as Laird. :-)

What gets you out of a writing slump? What about a reading slump?

Talking to other authors and readers gets me out of a writing slump. Authors understand the feeling and the pressure of the looming deadline, and I'm lucky enough to have a really fantastic network of author friends to lean on when I need it, who are great at peptalks and ass-kicking, depending which I need more. And my readers group - Stacy Kestwick's The Wreck on Facebook - is my safe place. It's a super active bunch of the readers who buoy me up every day. I always want to make them proud and they help keep me going.

Honestly, I haven't been in a reading slump in ages. There are so many good books out there in every conceivable trope just waiting to be devoured. But certainly, a reread of a perennial favorite is a good way to beat a slump. I reread Jay Crownover's Rule and Sierra Simone's historical Ivy Leavold series this year.

What's next for you?

I'm starting a cowriting project with the amazing Hazel James that we'll release under the pen name Rory Hale. And I'm starting a new trilogy that I'm still in the midst of the background research for, but I'm so freaking excited about it. It's going to be hotter than my previous stuff, with some voyeurism and exhibitionism coming into play.



Drumline Giveaway: $25 Amazon Gift Card

Feb. 1st:
The Book Junkie Reads . . .
Up 'Til Dawn Book Blog
Love Read Listen
UBH
Book's, Babe's and HEA's
Sasha Says
Feb. 2nd:
The Book Disciple
Dirty Bad Bloggers
Smada's Book Smack
Sweet Red Reads
Feb. 3rd:
Can't Quit Books
Lover of Big Books Cannot Lie
Bobo's Book Bank
Feb. 4th:
Next Book Review
Lisa Loves Literature
Cali Book Reviews
Feb. 5th:
Never Too Many To Read
The Bookworm Lodge
Mile High KINK Book Club
Book Babes Unite
Smashly Bookalicous Reviewing Chicks
Feb. 6th:
Lilly's Book World
SERIESous Book Reviews
KT's Book Blog and Review
Feb. 7th:
A Page to Turn
Haddie's Haven
The Book Addict's Reviews
Bookworms Corner
London's Scribbles
Aaly and The Books
Rachel Loren's Love of Reading
Books n Wine
In Patti's Imagination
Reading in Sarah's Corner